High Level Photography
Aerial Photography is excellent to capture that "one" image that will convey everything about a location. However there are properties that may be unsuitable for aerial photography and ground based photography does not show the sites full potential.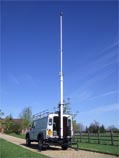 It could be a warehouse/distribution centre with large rear manoeuvring potential, retail parks highlighting tenants; large residential with commanding views etc. On those occasions our high level capability could solve many problems.
Our mobile telescopic tower brings extra flexibility and a new dimension to images of your particular location.
The tower, rising to over 30 metres gives an overview of properties that are unobtainable either from ground level, or as a conventional aerial photograph.

Mounted on a 4WD Land Rover the tower gives quick access to the most inhospitable locations.

To see examples of our High Level Photography, click here.